Ted Pella, Inc. was founded in January, 1968 by Ted Pella, President and Christel Pella, Executive Vice President in charge of Pelco International, the international division of Ted Pella, Inc. Ted was formerly Director of Marketing of LKB Instruments in Stockholm, Sweden, while Chris started as an EM Technologist in the Anatomy Department under Professor Fritiof Sjstrand, at the Karolinska Institute in Stockholm.

The company started in Altadena, California and has steadily grown over the years, expanding into what is now our location in Redding, California. In 1998 Tom Pella joined the company and is now the General Manager. Among the talented staff are specialists in the field of the life sciences including histology, biological electron microscopy, ultramicrotomy, immunogold staining as well as vacuum evaporation and material science. Ted Pella, Inc. is recognized as the leader in microwave tissue processing technology, being active in research in this area. We continually strive to provide our customers with outstanding products and service.

Pelco International was formed in 1975 as the export company for Ted Pella, Inc. specializing and understanding the many needs and requirements connected with sending products all over the world. In 2007 Pelco International merged with Ted Pella, Inc. and became the international division of Ted Pella, Inc.

We manufacture instruments and supplies and serve laboratories dedicated to a variety of types of microscopy: Transmission and Scanning Electron Microscopy, Electron Microprobe Analysis, Atomic Force Microscopy, Confocal Laser Microscopy and Light Microscopy. We serve a diverse set of fields including Biology, Biotechnology, Chemistry, Chemical Engineering, Failure Analysis, Forensics, Genetics, Histology, Materials Science, MEMS, Materialography/Metallography, Microelectronics, Nanotechnology, Neurosciences, Pathology, Pharmaceuticals, Physics, Quality Assurance and Semiconductors. We serve colleges and universities, private companies, hospitals and various branches of government, domestic and international.

Thank you, our customers, for your support and interest in Ted Pella, Inc. and Pelco International.
Vendor Showcase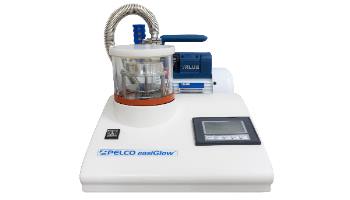 The PELCO easiGlow™ Glow Discharge Cleaning System is a compact, quick and easy to use standalone system. It is primarily designed for cleaning TEM grids and hydrophilization of TEM carbon support films, which have the tendency to be hydrophobic. A glow discharge treatment with air will make a carbon film surface negatively charged (hydrophilic) which allows aqueous solutions to spread easily. For Cryo-EM applications we have the easiGlow bundled with all items needed for a typical glow discharge setup in a cryo-EM lab.
Manufactured in the USA.
read more