3 Foster Lane
Flemington, NJ 08822
United States
Company Established In
1971
CATEGORIES & HEADINGSdetails >>
Bio-Serv: An unwavering commitment to animal care and product innovation

For 50 years, Bio-Serv has been a proud member of the research community and the leading provider of Nutritional, Enrichment, Medicated and Special Needs products for use with laboratory animals. We partner with the research community to promote good animal welfare concepts, through the delivery of innovative, quality products that enrich and enhance the lives of all research animals
in your care.

Our Nutritional products are standard or customized lab diets that can be modified to meet the research needs of the investigators, as research protocols may require dietary manipulation of micronutrient or macronutrient profiles.

Our Enrichment products include a full line of toys and treats for all laboratory animals, designed to promote species-typical behavior so that animals feel comfort in the research environment.

Our Medicated products consist of a wide variety of highly palatable diets and tasty treats formulated to help animals willingly consume a medication or a drug of interest and eliminate any dosing stress.

Our Special Needs products offer laboratory animals special dietary support or supplemental dietary interventions to help ensure a high standard of care for all protocol conditions.

Vendor Showcase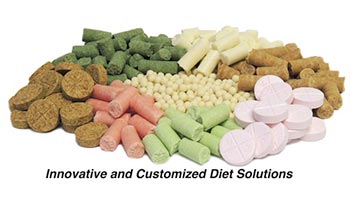 Custom diets are diets that are formulated to meet your specific research requirements. We can create a new formula based on customer specifications, reproduce a previously published formulation, or modify any existing formula.



Research protocols may require dietary manipulation of micronutrient profiles or the addition of certain compounds to induce disease models or to investigate the mechanisms by which specific nutrients or compounds impact disease states.



The most common type of custom diet used for nutritional manipulation is a purified diet. Purified diets are formulated with refined ingredients such that each ingredient contributes primarily one nutrient. This allows for precise manipulation, customization and reproducibility of the diet's nutrient composition.



Contact us today to discuss your custom diet needs! read more